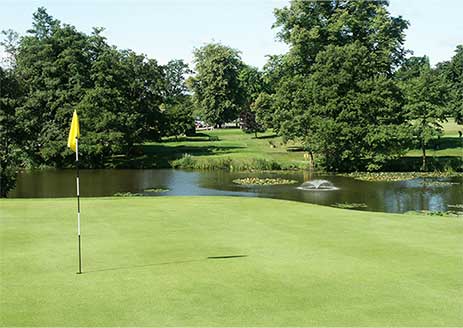 Dress Code
Dress Policy & Club Information
'The Board' have determined that the following regulations will apply with immediate effect and will be revised and/or amended annually if necessary.
As the world continues to change at ever quickening speeds around us, at Calcot Park Golf Club we firmly believe that if we are to continue to have a thriving and active membership, we will be best served by simply asking everyone to follow the guidelines stated within this code.
Principles
These dress rules are for the guidance of members, guests and visitors, and are intended to be open, understandable, workable, and to be consistent with standards of dress considered acceptable at modern-day Golf Clubs.
The rules are not intended to be fully prescriptive, and are in some cases open to interpretation, but Members are expected to take personal responsibility for observing standards of dress that reflect well on themselves and Calcot Park Golf Club.
Golf attire means clothes that are generally available for purchase in professional's shops or similar.
Members guests, visitors, visiting societies, visiting teams and those participating in open competitions are required to comply with these dress rules. It is up to Members for their individual guests, Team Captains for visiting teams, the General Manager and Professional Staff for societies and visitors to ensure they advised accordingly.
Golfers should change their clothing and footwear in the locker rooms and preferably not in the car park.
The Course includes the range, all practice areas and practice putting greens.
To view Calcot Park's Dress Policy please click HERE
Other information
Mobile Phones & Other Electronic Devices

Taking calls on mobile phones is not permitted in the Clubhouse or on the Golf Course (except in the foyer, changing rooms, Bill Parsons room or for emergency purposes). Mobile phones and other electric devices (such as laptops, iPads, tablets) may be used throughout the Clubhouse for purposes other than making telephone calls, provided they are on "silent" mode and they do not affect the enjoyment of others. The "lower lounge" has been designated as an area for remote working for members.


Headwear
Headwear, with the exception religious garments, must be removed prior to entering the Clubhouse.


I ntoxicating Liquor
Intoxicating Liquor shall not be sold to a person under the age of eighteen years for consumption on or off the premises.


Estate Roads
The speed limit on all roads in the Park is 15mph.


Smoking & Electronic Cigarettes
The entire Clubhouse and any areas where food is being served or consumed are designated as No Smoking Areas. Electronic cigarettes are not permitted to be used indoors.


Dogs
Dogs are not allowed in the Main Bar, Restaurant or any area on the 1st floor, with the exception of registered "Guide Dogs for the Blind" or "Dogs for the Disabled". Dogs are permitted on the Patio, the "Lower Lounge" (the hard floor area between the main lounge and the patio) and the "Back Bar". Dogs are also permitted on the Golf Course (except for competition days) provided that they are kept under-control at all times. Owners must pick up after their dogs and take any waste home. Bins on the golf course are not Dog Waste bins.


Personal Belongings
The Club will not be responsible for any item left unattended in the Car Park or Dressing Rooms.
Insurance
The Club accepts no liability for injury, loss or damage to persons or their property whilst on the Golf Course, in the Clubhouse or any other areas of the grounds. We recommend all participants to have adequate insurance cover in respect of such matters.


Course Care
All members, guests and visitors are expected to look after the course at Calcot Park. This includes but is not limited to: repairing pitch-marks, replacing divots, raking bunkers, picking up litter. Please treat the golf course and the greenkeeping team with respect.


Practice on the 18-Hole Golf Course
Single players only are allowed to play a maximum of two golf balls on the 18-hole Golf Course for practice purposes, and only when pace of play conditions allow. From fairway to green, both balls shall be played as they lie and it is not permitted to hit practice shots from the same location with both balls, as this causes unnecessary co-located divots and turf damage. On the Green, players are to ensure that that all pitch marks created from their shots, hit with the two balls in play, are properly repaired.