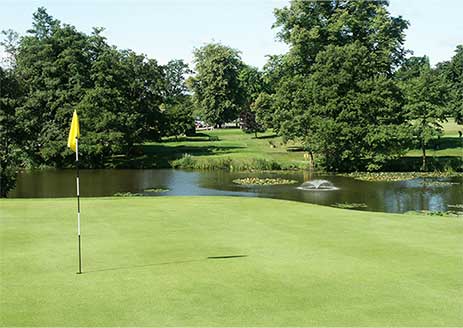 Dress Code
To avoid any disappointment or possible embarrassment, may we politely remind you of our Dress Code:
ON THE COURSE: Appropriate and suitable golf clothing should be worn at all times. Golf Shoes must be worn. Tailored Shorts may be worn but no cargo shorts.

MOBILE TELEPHONES are not permitted to be used in the Clubhouse Lounges, Restaurant and on the Course. (They may only used in designated areas)
Drinking directly out of bottles is not permitted.
IN THE CLUBHOUSE : A reasonable standard of dress is required at all times in the Bars, Lounge and Dining Room. It is not necessary to change for Lunch (other than shoes), but soiled or stained clothing is not considered a reasonable standard. Baseball caps and any other headgear should be removed when in the Clubhouse.
The Club will not be responsible for any item left unattended in the Car Park or Dressing Rooms.
The Club accepts no liability for injury, loss or damage to persons or their property whilst on the Golf Course, in the Clubhouse or any other areas of the grounds. We recommend all participants to have adequate insurance cover in respect of such matters.
IN THE RESTAURANT : Electronic cigarettes are not permitted to be used in the dining areas.
The following are not permitted under any circumstances on the golf course:
T-SHIRTS; JEANS; CUT-DOWN or FRAYED SHORTS; SLEEVELESS or COLLARLESS SHIRTS, FOOTBALL SHIRTS or SHORTS, TRAINING SHOES, CARGO SHORTS (Unless specifically designed for golf by a golf clothing manufacturer.) ANY CAMOFLAUGE PATERNED GOLF CLOTHING IS NOT PERMITTED UNDER ANY CIRCUMSTANCES.
Shirts should be tucked into your trousers at all times; trouser-bottoms should not be tucked into socks.