Summer visitor Green Fees 2023 - Applicable from 22nd April 2023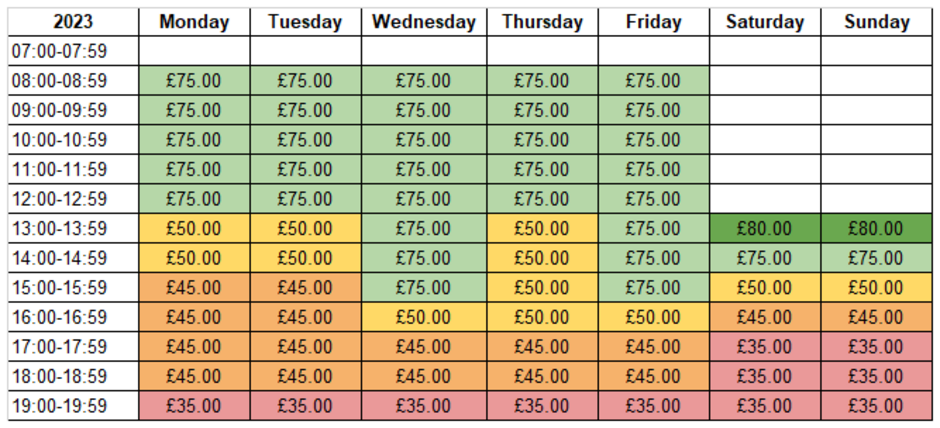 SUMMER 1 - £80.00 PER PERSON
SUMMER 2 - £75.00 PER PERSON
SUMMER 3 - £50.00 PER PERSON
SUMMER 4 - £45.00 PER PERSON
SUMMER 5 - £35.00 PER PERSON
County Card Holders - Calcot Park offers valid County Card holders to the discounted green fee of £45.00. County Cards may be used Monday - Friday, and Sunday afternoons from 2:00pm. To book, please email admin@calcotpark.com or call the Pro-Shop - 0118 942 7127 (Option 1)
Standard summer greens fees
| | | |
| --- | --- | --- |
| Visitor Green Fee's | Monday - Friday | Weekends & Bank Holidays |
| Visitor | £75.00 | N/A |
| Visitor after 12.00 | £45.00 - £75.00 | £50.00 - £80.00 |
| Visitor after 4pm | £35.00 - £50.00 | £35.00 - £50.00 |
| Junior Visitor | £30.00 | £30.00 |
| Advance Visitor Booking | £90.00 | N/A |
Member Guest/Visitor Notes:
Please note that Adizero golf shoes are banned from the course
At all times, Members' guests must play with the Member who signed them in
Members guests are limited to 6 rounds in the calendar year. Any guest playing more than 6 rounds will be charged the full visitor rate
Members may introduce three visitors at weekends and bank holidays subject to availability; bookable from 9:00am on the previous Monday
Members' Guests and Visitors are not permitted on Medal or Stableford Competition weekend days or during booked time periods for competitions


Regulations & information
Calcot Park Golf Club - Mailist List
Enter your details below to be added to the Calcot Park mailist list where you will receive all the best green fee offers, information on upcoming open competitions, and much more!
After submission, you will receive an automated email requesting permission to add you to our mailing list. Once complete you will be automatically entered into a prize draw with a chance of winning a 4-ball at Calcot Park. Good luck!